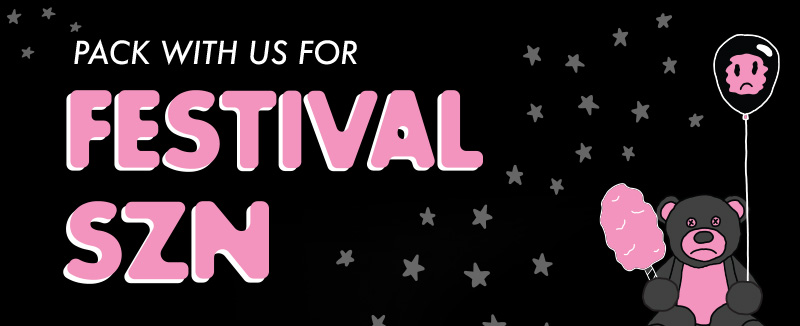 There are two types of festivalgoers in this world: the ones that plan months in advance and the ones that throw their stuff in a bag the day of—there's no in-between.
Because we have been counting down the days to Sad Summer Fest Presented by Journeys (T-1 day), we've been packed for months. However, for all you last-minute packers, no judgment here; we thought this would serve as your friendly reminder to get prepped, packed, and ready so you can have the best experience at your shows!
Don't have your Sad Summer tickets yet? It's not too late. Check the lineup and get tickets here for one of the many stops on the tour. Sad Summer will feature Waterparks, Neck Deep, Mayday Parade, State Champs, and more—we're internally squealing because we can hardly wait.
Not going? You're missing out, but we still think this info is valuable for any festival you're headed to this year! Here's our list of festival essentials that you won't want to forget.
1. A Place to Keep the Goods
The obvious first step is to get a bag to throw all your stuff in. You'd be surprised how many people try to skip out on it. It seems whimsical and carefree to go without a bag, but unless you're planning on wearing cargo shorts, you'll want a place to keep your stuff.
A bag gives you the freedom to take pictures, dance, and avoid juggling your junk all day. Many festivals and individual venues have rules and size requirements for your bags. Most commonly, clear bags are preferred, but be sure to check with your specific show and location to see what's allowed.
2. Sun Protection
Three words for you: BEAT. THE. HEAT. Take the necessary precautions to avoid sunburns and dehydration. You're spending hard-earned money to be at these shows; you don't want to be miserable and wishing it was over. Pack protection.
We recommend throwing in SPF and actually using it! Reapply several times a day and spread evenly for best results. Along the same lines, don't forget your sunnies. Squinting to try and see your favorite bands or doing the ol' hand-over-eye visor is a no-go! Slip 'em on and forget about it!
Lastly, we can't recommend a hat enough. Covering your face and head will help fight off those bad burns, protect your scalp, and keep you cool. Basically, hats are a vibe, and we've got plenty of affordable and trendy options to choose from; there's no excuse.
3. Heat Solutions
When we say dress in cool clothing, we don't mean cool like 😎; we mean cool like 🥶. Really think about the colors and layers you're planning to wear to prevent from overheating. If you haven't yet, check out our entire Festival Collection for some great apparel and footwear options.
You'll also want to bring solutions to sweaty problems like small sweat towels, mini deodorant, or facial blotting paper. For the long-haired folks, bring hair ties, clips, or scrunchies to get your mane off your neck and cool off.
The heat, paired with a large crowd, will not be great for your phone's battery life. Pack your charger and a portable charger so you can stay in communication with your friends and family, navigate or get home safely, and post the obligatory "Snapchat Story concert" of your favorite songs.
4. Hydration, Hydration, Hydration
This deserves its own category, its own billboard, its own tattoo on the forehead, whatever we can do to get it through to you all: you must hydrate. No matter where you're headed, it will be hot, it will be a long day, and you will more than likely be screaming your favorite lyrics and jumping around. Take care of yourself and your neighbors by making sure you're all drinking enough water.
H20 is the way to go, but it's always a good idea to pack hydration multipliers or electrolyte packets. There are many great brands available, and the packets are so tiny you can throw in enough to share.
On top of that, be sure to pack a refillable plastic water bottle or purchase one at the venue. In 2021, Sad Summer partnered with Reverb to minimize the amount of single-use plastic bottles consumed during the festival. The merch tent featured the exclusive bottle pictured below, with all proceeds being donated back to the Music Climate Revolution program. After its major success, Sad Summer will be partnering with Reverb again this year and is committed to offering free water refilling stations on-site.
5. Outfit Prep
No one wants to stress about their outfit the day of. Plan ahead of time, down to the details and accessories. Yes, the Instagram pic and aesthetic of it all is important, but so is the functionality of your fit. Try it on a few times and walk around to simulate how it will feel during your shows. Can you move in it? Can you sit down? Is it breathable? What about shoes? Are they broken in? If not, break them in!
One of the most popular footwear brands seen at Sad Summer is Dr. Martens! The brand is timeless, versatile, and durable for almost any condition. So, when broken in properly, it's the perfect festival shoe. If you're planning on rolling up in Docs, or any leather shoes for that matter, check out the Dr. Martens Care Kit. The kit includes Dubbin wax, known for softening, conditioning, and weatherproofing your leather, which will help break them in. It also includes Wonder Balsam, formulated to nourish, condition, and soften leather, great for breaking in new Docs or reviving well-loved pairs. This prep, along with the wear test, will help ensure your leather shoes are good to go for all your shows. Learn more about breaking in your Dr. Martens with their tips here.
6. Blister Prevention
Maybe you're walking to meet up with friends, dancing the day away, or standing at the stage—whatever you're doing, foot care is important! It helps to break in your shoes, of course, but when there's that much sweat (gross but inevitable) and movement, blisters just happen. Instead of suffering through it, come prepared with reinforcements.
Step one: get yourself a good pair of socks to fight those gnarly blister beasts. Step two and festival crowd favorite: bring band-aids, backup band-aids, and blister band-aids—the works. This is a multi-purpose hack for those long days. You and your group have blister protection, and you also have band-aids in case anyone needs one for a cut or scrape.
7. Safe Spot for Your Coin
Make sure you have a good place to keep your money, cards, and keys. You won't want to lose these important items in the midst of the madness, and it's the last thing you want to have to worry about. Get a secure and sturdy lanyard, wallet, or card holder to keep these important items safe with you.
You'll never regret overpreparing for a fun festival weekend. Packing in advance can help you save money, maximize your time, and make memories that last. We wish you all a fun season and urge you to check out one of the many stops along the Sad Summer Festival tour this year—it's going to be one of the best yet!
---