April is here, and it's time to cheer. Do you know what that means? It means we're mixing things up in our stores to show you what's hot and ready for the summer season.
You might be thinking it's too early to think about summer, but the truth is that NOW is the time to prepare. Some of our most popular styles will sell out before the first splash of a chlorine pool, peel of a sunburn, or melting of an ice cream cone on a hot day.
So now that that's settled, let's talk about the sandal of the season: Birkenstock.
Men's Styles
Sometimes summertime footwear can be a bit of a struggle for guys. Whether it be finding a pair of sandals that matches your vibe, a pair that fits properly, or a pair that stays comfortable all day long. That's all BEFORE thinking of how to style it.
Want a little style secret? Birkenstock is one of the most versatile footwear brands of the spring and summer seasons. Take them from the beach to date night to the pool to an outdoor concert in seconds. See the selection, including the classic clog and sandal styles!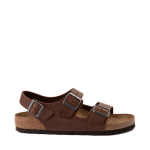 Women's Styles
We already know that the girlies love Birkenstock. But did you know what a wide variety of women's styles we have available for this spring (and into summer)? Let's take a look to keep you styled and refreshed for the sunny weather. Did we mention there are platforms too? Obsessed.
Water-Friendly Styles
One of the best parts about wearing a water-friendly Birkenstock style is that you don't have to worry about ruining your fave suede styles. Take them everywhere with you with a lightweight design, durable structure, and the best part… they float!
We know that Birkenstock will simply never go out of style; however, it does keep evolving and getting better every single year. Treat yourself to a new pair or new style, and wear it confidently all season long. Don't forget to tag us @journeys when you do!