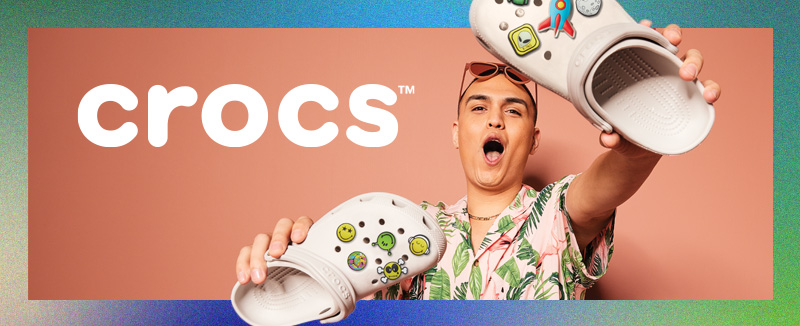 When it comes to footwear, comfort and style often find themselves at opposite ends of the spectrum. However, there's one brand that has managed to bridge the gap seamlessly—Crocs. Often a topic of debate in the fashion world, these distinctive rubber clogs have carved a niche for themselves, especially over the last decade. If you're still on the fence about whether to join the Crocs bandwagon, here are three compelling reasons why you should consider slipping into comfort.
Plus, it's still Croctober, and we want to put you in the mood to celebrate! 🎃🐊
1. Versatile Style
While comfort is paramount, Crocs have evolved beyond their classic clog design. They're a bit of an iconic brand in the fashion world, with additions like the Crocs Classic Crush Clog and brand collaborations like DreamWorks Shrek x Crocs. The brand now offers an array of styles, including sandals, sneakers, and more. You can find a pair of Crocs to suit almost any occasion or outfit.
2. Eco-Friendly Initiatives
Comfort doesn't have to come with environmental cost! In recent years, Crocs has taken steps toward sustainability. The brand has introduced eco-friendly collections made from renewable resources, showcasing a commitment to environmental responsibility.
Crocs prides itself on pioneering the use of bio-based Croslite™ material developed in partnership with Dow, using their ECOLIBRIUM™ technology to transform bio-circular waste to create the same shoe with less emissions.
3. Easy to Keep Squeaky-Clean
Ever walked by a shoe cleaning station and been teased for the condition of your sneakers? The white sneaker trend is great, but battling to keep them clean every single day isn't. Avoiding puddles like the plague, taking the long route to remain on the sidewalk, and having your Crep Ultimate Starter Pack on hand can get old really fast. Take a break from the stress of wanting clean shoes and try Crocs.
They're easy to keep clean and incredibly easy TO clean. Water-resistant material means you can rinse your Crocs off with the backyard hose, in the bathtub, or even on the delicate cycle in the washing machine. So all of this to say, if you love low-maintenance footwear and appreciate the roads less traveled, it's probably time to try a fresh new pair of Crocs.
In a world where fashion trends often prioritize aesthetics over comfort, Crocs stands out as a unique and sensible choice. The distinctive style, combined with unparalleled comfort and versatility, makes them an appealing option for a wide range of consumers. So, if you're ready to step into a world of comfort without sacrificing style, it might be time to consider joining the Crocs community. After all, in the realm of footwear, comfort should always be a step ahead.
Tag us @journeys when you find your perfect Crocs match and style it for Croctober festivities.