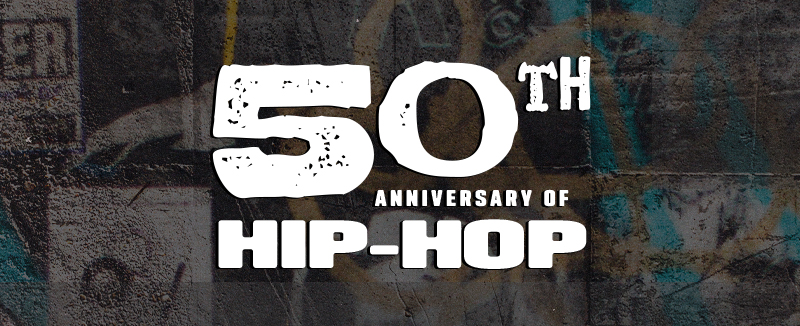 Did you know that this year marks the 50th anniversary of hip-hop?
You do now!
Like every genre of music, hip-hop has roots in other styles. Its evolution into what we know today has been shaped by many creators, artists, songs, and moments in time. With that being said, many attribute the birth of hip-hop to a party in the Bronx on August 11, 1973. Clive Campbell, better known as DJ Kool Herc, performed in front of his biggest crowd yet and crushed it. From that day forward, a grassroots musical revolution began, and the term "hip-hop" was coined six years later.
Timberland
Originally designed for blue-collar workers in the 1970s, Timberland boots quickly gained traction among New York natives who needed sturdy boots to keep their feet comfortable and dry for long days or nights out. The hip-hop scene in New York was no different. Artists like The Notorious B.I.G. and Tupac Shakur alike were known for wearing the 6" boot.
In recognition of the 50th anniversary of the Timberland classic original boot and the 50th anniversary of the culture that made it an icon, Timberland is celebrating with a bang! Introducing the Timberland Hip Hop Royalty Boot. From its microphone cord-inspired aglet to the vinyl record-influenced heel wrap, this boot has a look like no other. Its purple color mirrors colors found in the mural of DJ Kool Herc in the Bronx, paying tribute to the icon. This launch is truly a celebration of music and fashion coming together.
Check it out now!
Timberland isn't the only brand with roots in hip-hop history. There are plenty of brands that have influenced and been influenced by hip-hop over the last few decades. Here are a few that you can shop at Journeys NOW!
Adidas
The Adidas Superstar style has been around since its launch in 1970. When Run DMC's "My Adidas" was released in 1986, and the group was constantly seen wearing Adidas tracksuits with their Superstars, they really took off!
As the look grew in popularity, Adidas decided to sponsor Run DMC, becoming one of the first sportswear brands to collaborate with musicians. Not only did this pave the way for artist collaborations that we see so frequently today, but it also strengthened the relationship between athletic brands, hip-hop artists, and fans as well.
Shop the Adidas Superstar and more:
Puma Suede
As another brand with athletic roots, Puma has had a heavy influence on the hip-hop scene. In the late 70s, breakdancing gained popularity as a way for hip-hop fans to dance in clubs during the breaks between funk, salsa, and other music. Because the dancing is so athletic, break dancers needed a sneaker that was going to hold up, and they collectively adopted the Puma Suede. Designed to be sleek and durable, it blew up in the dance scene.
Check out the Puma Suede available at Journeys:
K-Swiss
K Swiss, founded in California in 1966, was a brand originally designed to focus on tennis. Because of its unique look and silhouette, it gained popularity with West Coast hip-hop artists like Snoop Dogg. K-Swiss dove headfirst into their impact on hip-hop culture and embraced it with a documentary called "K-Swiss California Love."
See the latest from K-Swiss and more:
Fashion and music have always been intertwined, but when you break it down, the impact that hip-hop has had on Journeys and our brands is incredible. We're honored to celebrate this milestone in music history and are so excited to be a small part of the celebration. Tag us in your favorite brands mentioned, and we might just share your post (with permission, of course). Find us @journeys on TikTok, Instagram, and Twitter.