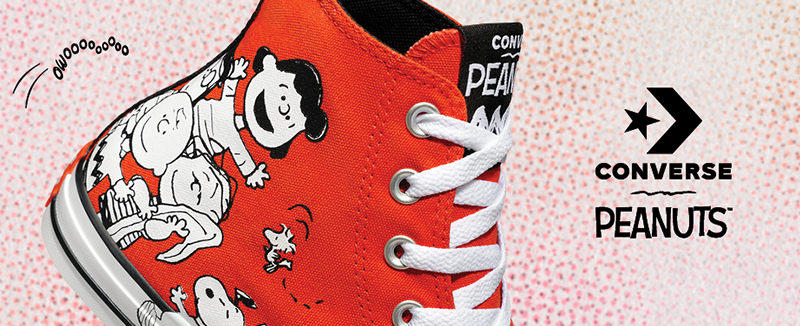 If there's one thing we love as much as Converse, it's comics. So, when we found out Converse was collabing with Peanuts, we started counting down the days until the exciting launch.
Thankfully, we don't have to wait any longer because today's the day!
INTRODUCING: The Converse x Peanuts collab—a tribute to the Peanuts gang, beloved by every generation.
This limited-edition collection of footwear, apparel, and accessories celebrates Charlie Brown, Snoopy, and the rest of the gang as one of the most popular and influential comic strips in history. Over the last 70 years, the Peanuts crew has graced newspapers in homes across America, the big screen, Broadway, video games, and now fashion.
Charlie, meet Chucks.
Chucks, meet Charlie.
You're both icons in American history, and we think together, you'll make magic, spread joy, and bring forth all the nostalgic vibes!
This collection is already totally timeless with its classic look and modern style. From sizes ranging from adult all the way to little kid and toddler, you can rep your childhood faves or introduce the next generation to the Peanuts crew.
The full lineup of character Converse gear is available online and in select stores today! Shop now while supplies last for this iconic collab.
A closer look at the collection: