Was everyone else as obsessed with the Grimace Shake trend as we were?
Did we understand it? That's a different question.
After the hype surrounding McDonald's this summer, we're really excited to offer Crocs' latest collab with the big dawg in the fast food game. The keeper of the crispiest fries. The master of the Big Mac. The home of the Golden Arches. Yes, the rumors are true. INTRODUCING: Crocs x McDonald's available at Journeys!
There is no need to supersize this launch, we're blowing it by offering every pair of footwear in the collection! We want to ensure the whole squad is represented so you can shop your favorite McD's mascots.
McDonald's x Crocs 5-Pack of Jibbitz
The Jibbitz pack features your fave orders in Jibbitz form, including the Big Mac, the perfect fries, and McNuggets in a box—and don't forget the drink! The set also throws in the iconic golden arches with the McDonald's "M" logo, recognized around the world. Here's a preview:
McDonald's x Crocs Classic Clog
The most versatile tribute to the McDonald's you know and love comes in this clog. The forever recognizable branding and colors is displayed proudly with red and yellow detailing throughout. And don't even get us started on the adorable little Jibbitz. See for yourself:
McDonald's x Crocs Grimace Cozzzy Sandal
Walk a mile in Grimace's shoes, then see how you feel (spoiler... you'll feel amazing). These sandals, lined with faux fur, will have you feeling like your snuggled up next to your purple pal Grimace all day long. His big lovable smile lives right on the strap, alongside custom milkshake and Grimace Jibbitz.
These sandals are known for being lightweight, flexible, and fun. Take a look: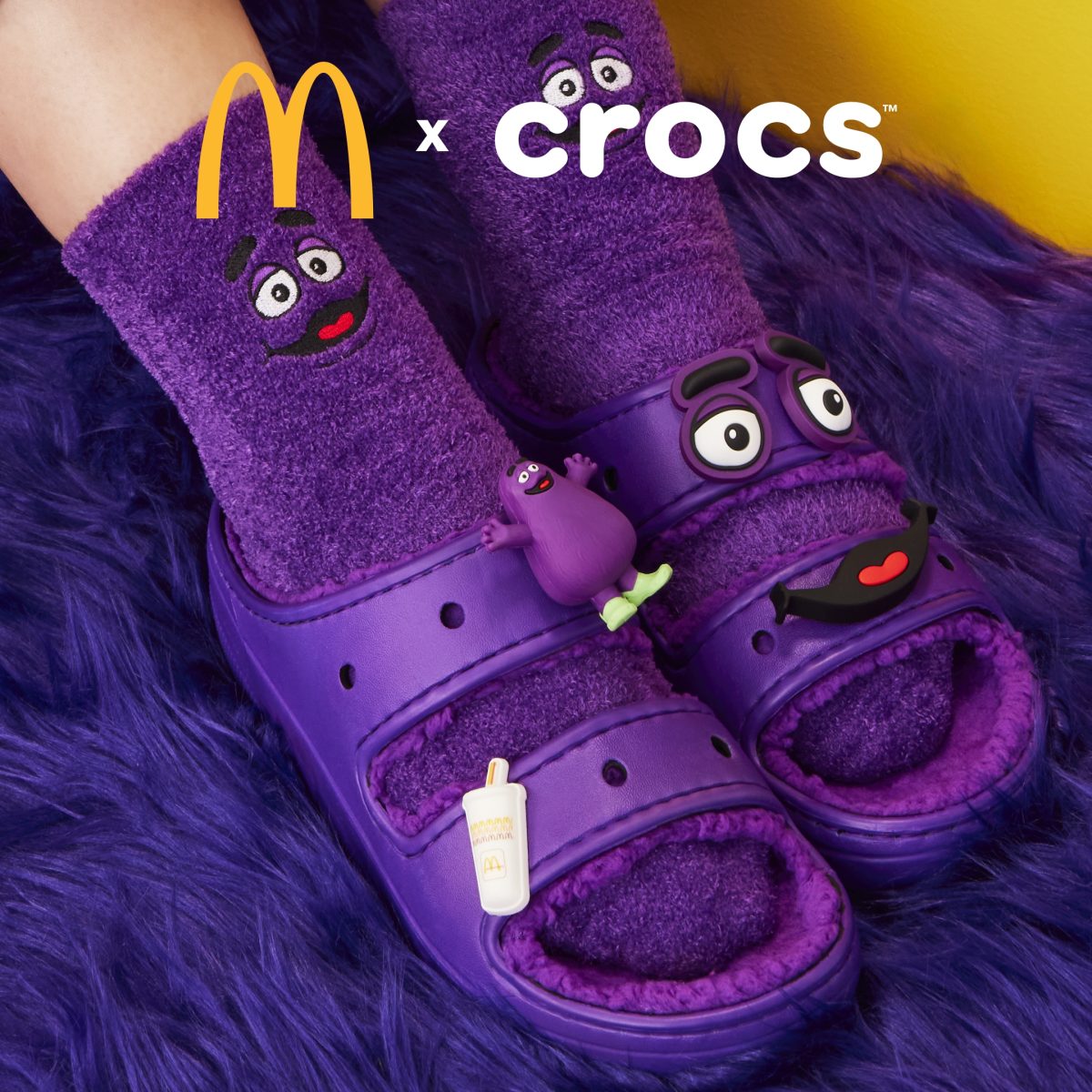 McDonald's x Crocs Hamburglar Clog
Feelin' stealthy? Stay as undercover as the Hamburglar himself in the striped tribute to this character. The clog design features his famous white and black fit details as well as his go-to order: the McDonald's hamburger.
Check it out:
McDonald's x Crocs Birdie Clog
Early birds get the Birdie! The classic clog in signature Birdie yellow and pink features Miss Birdie's favorite menu item: the McDonald's Egg McMuffin in Jibbitz form.
This take on the Classic Clog will be highly sought after for the convenience, color, and fun in the design. Take a gander at Birdie:
Wipe the drool from your mouth and shop this collection while styles and sizes last!