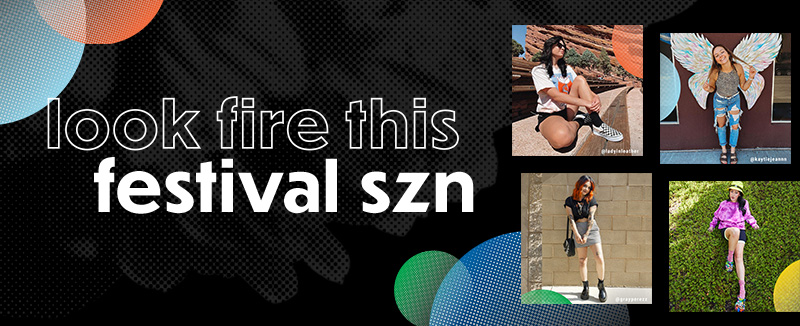 After two years of little to no live music, it's time to put on your favorite fits and hit the Instagram runway! That's right, festival season is in full swing, and we want to outfit you for the fiercest time in summer fashion! We also want to make sure you know about the best festival of the summer (yeah, we're a little biased).
Have you been to Sad Summer Festival presented by Journeys? If not, you're missing out, and if so, this year is going to be the best one yet! Sad Summer is making stops in 18 different cities and will feature Waterparks, Neck Deep, Mayday Parade, and more. Make your festival plans and get your tickets here. Once you've got tickets, we've got your fit covered.
Here's our curated list of festival favorites, based on the summer 2022 trends.
Sturdy Sneaks & Platform Boots
That chunky sole isn't going anywhere anytime soon. A sturdy shoe is practical for navigating any venue's terrain, as well as holding shape and form after miles of walking and hours of dancing. The best features of the platform and lugged styles are that they go with almost everything! Whatever you're wearing this szn, shop these Sturdy Sneaks & Platform Boots to find a complementing pair.
All-Day Wear
With this everyday wear, the comfort level is unmatched. Forget blisters and weeks of breaking in; these classic shoes are a great solution for someone searching for a neutral look and soft footbed. The best part is that you can wear these versatile options all season for feel-good feet, and they match the vibe of any summertime scenario.
Lil' Bags FTW
Get on that hands-free level so you have plenty of freedom to take pictures, wave your hands in the air, and hug your neighbors. Belt bags, sling bags, micro backpacks, and other little bags are making their way into festival and everyday fashion. With no shortage of style and brand variety in this collection, you're bound to find the best bag for you.
Not Your First Rodeo
Hey, you don't have to be a rootin' tootin' cowboy or cowgirl to wear this style; you've just gotta strut it with confidence! Like other '70s fashion staples, western wear is extremely hot at the moment. Its neutrality, versatility, luxury material, and timelessness make it a total look for someone trying to throw a fit. This frontier footwear might not be the most weather-friendly, but you'll sure look cool.
In the Shade but Never Shady
With the boom of the skincare and beauty industries, it's no shock that hats have gotten trendier over the last few years. Many people are turning to bucket hats with fun prints and patterns to express themselves and protect their skin! Be sure to bring your hat along to any outdoor venues this summer.
In the Clear
Translucent materials were once only reserved for raincoats and jelly sandals but look at em' now. To be fully transparent with you, we're obsessed with the look. Whether it's a clear sole, body, or paneling, clear fashion can keep you cool and add dimension to any outfit or accessory—not to mention that this style literally goes with everything.
Topping it Off
Festivals are all about connecting. Connecting with music and artists you love, strengthening connections with old friends, and creating connections with new people. So why not wear the brands and artists you love on you? Our festival favorites include branded tiny tops and graphic tees, and the way we see it: you should wear your heart on your sleeve and the brands and bands you love for the world to see.
Journeys wants to wish you a safe and happy festival season! Enjoy your time with your favorite bands, artists, friends, and family. Wear what makes you feel the most comfortable and confident while making memories that last. Whether you're the "bold statement" type, with glitter in your hair and platforms on your shoes, or "all monochromatic all the time" in classic Vans, we've got what you need. Be sure to shop the entire Festival Collection in-store or here.
This is your friendly reminder to stay hydrated and protected from the crazy summer sun with lots of water, hats, sunglasses, and SPF. We also recommend checking the bag policy for each venue you're attending to ensure your bag fits the criteria before you buy. Happy shopping!
---