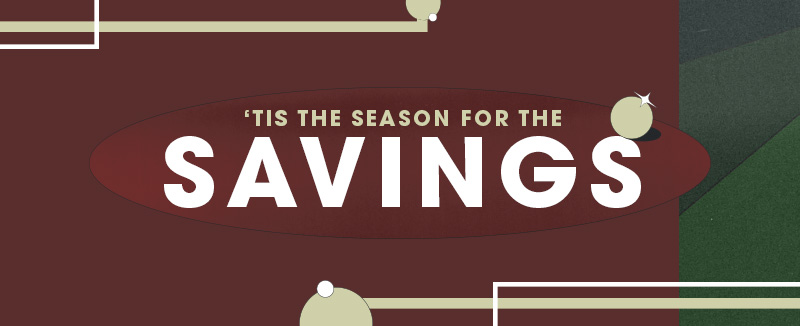 Just because Black Friday and Cyber Monday are over doesn't mean you have to pay full price for your Journeys faves! We've got tons of brands and styles still on sale in-store and online today! Annnddd don't forget about your Journeys Cash if you have it! You can redeem it today, tomorrow, and all the way until December 12th. Don't let it go to waste!
Whether you're getting gifts for others, filling out your wish list, or buying a gift for yourself, here are a few stand-out sale items we want you to see before it's too late!
Holiday Gifting
Don't choose between a functional gift and a fashionable one this year, do both!
Winter boots are the special gift that keeps on giving. Give your loved ones or gift yourself with one of these warm and durable selections as the temperature keeps dropping!
Look lux and clean in leather styles like these! It's not every day you find a deal on upscale items from brands like Timberland, Dr. Martens, and more. Shop them now because we know one thing's for certain: these boots will NEVER go out of style!
Who doesn't love a fresh new pair of sneakers? Trick question: everyone does!
Check out these sale sneaks from the brands your friends and fam would love to have under their trees.
Keep it cool with casuals as you shop for your loved ones. These sale items are going fast because of their wearability, versatility, and of course, their comfort.
Wearables for the win! Accessories and apparel are the perfect gifts for the shoe-lover who seems to have everything! Pick them up a graphic tee or mini bag from their favorite brand. According to us, you can never have enough!
Women's Clothing On-Sale | Men's Clothings On-Sale | Kidz Clothing On-Sale
Holiday Giving
While you're thinking about your holiday gift-giving, don't forget that you can also give back when you shop in-store at any Journeys location!
We've got a Donate at the Register program with nonprofit, Can'd Aid, going on until December 24th. All you have to do is decide whether or not you wish to donate $1, $3, or $5 when you make a purchase. We'll match the donation, and Can'd Aid will use it to give back to kids across the country, gifting them with bikes, instruments, skateboards, and more!
If you can't donate this year, no worries! Just check out Can'd Aid's mission, follow them on social media, and spread awareness to your friends and fam!
Holiday Preparation
We know holiday shopping can get spendy and stressful, which is why we're trying to make it a breeze and help you save some coin while you're at it! Thank you for choosing Journeys for your holiday shopping, and be sure to follow along as we share some of our holiday faves on TikTok, Twitter, and Instagram.