Lil Tecca, rapper & self-proclaimed "fashion, fashion, yeah, fashion fanatic", embodies so much of what Journeys stands for: friendship, self-expression, creativity, the spirit of youth and most of all, posi-vibes. Because happiness is important. So, it only makes sense that we would connect with our friends at PUMA & Tecca to launch our first ever artist sponsorship.
[Pause for dramatic effect… and applause]
But don't take our word for it! We sat down with the Queens-born rapper to see what he thinks about the partnership, his journey so far and what's next. It was an interesting conversation.
JOURNEYS: Who is "Lil Tecca" in one sentence?
TECCA: Lil Tecca, in one sentence? Lil Tecca is a unique, creative artist whose dream is to be as happy as possible all the time.
Tell us about 18yr old Tecca! New year, new chapter, what can we expect from you?
18yr old Tecca has burgundy hair, piercings in his ears, and he's living & doing what he wants to do whenever he wants to [do it].
What about your style? How has it evolved over the years and did anything inspire it?
My style… my style it really, it went from… OK. First of all, my style really depends on the day, because whenever I dress it's like another expression of how I feel. So, if I'm rocking all black that's like me putting on my DO NOT DISTURB button in a way. So… the way it evolved, I don't know I really just wear what I like and the stuff I like changes over the years, I guess.
What's one thing you wish people told you about the hip hop industry before you started?
Sh*t, I really don't know what I wish people could have told me. I mean, I'm happy I wasn't really told too much. There's not a lot [that] people can tell you, cuz like it's not gonna hit the same until you actually experience something.
Think back to that first, BIG check you got from making music. What was the first thing you bought for yourself? And what was the first thing you bought for someone else? You don't have to say who, if you don't want. *haha*
I don't know, I was getting paid off Soundcloud before I signed. So like, I've been buying dumb stuff, like just saving up money and buying dumb stuff. I'll say, like a Louis Vuitton jacket off Grailed, just on some impulsive sh*t before school. Like twelve hundred… just spending all my repost Soundcloud money. I'll say that.
Before you even hit school?
Yeah, before I even hit school I would wake up, get clothes and go cash out. Straight repost money and streams and sh*t. After that, I guess my laptop – a Mac.
What about for someone else?
Yeah, I mean I got a house, but I wouldn't say that's like for anyone [specifically].
Besides you, who in the crew has the best fit & why?
First of all, all my homies are fly. Everyone is unique, so we all got our own drip. All my guys are fire, we're all doing our own thing.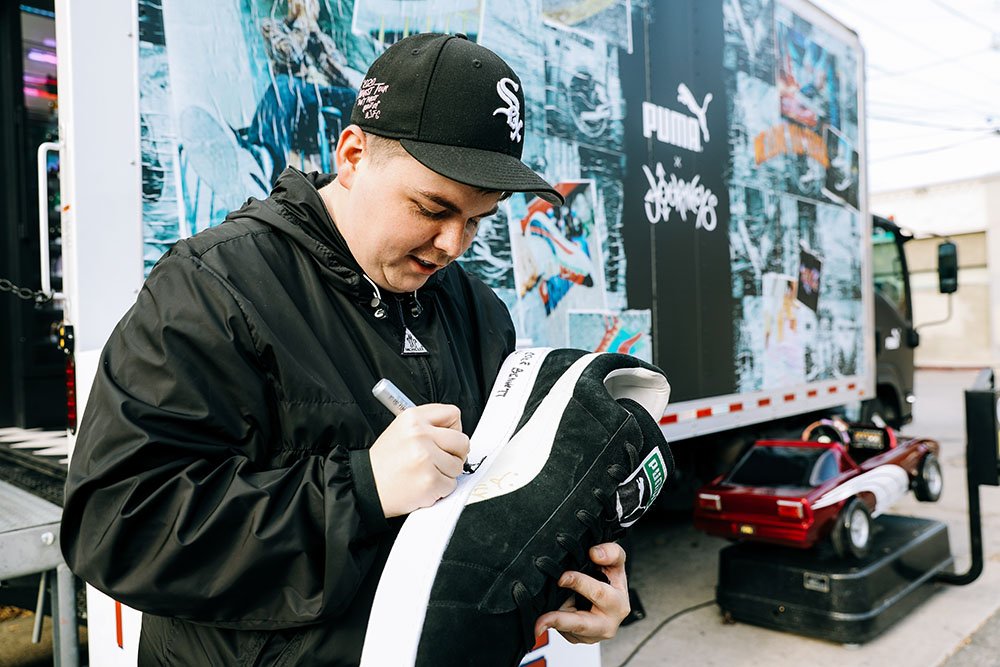 Since our name is "Journeys" we feel like it would be a miss if you didn't share how much you've accomplished since starting out in music. Talk about one or two milestone moments – those moments in your early career that made you stop & say "oh wow, I can't believe this is happening."
One of those moments was when I first got on Lyrical Lemonade. That was a "this is really happening" moment, because I was always watching them before I was on there and sh*t, so it was so crazy to be one of those guys. And another moment was probably when I got a million plays on Soundcloud. That was just like, it's just like that's a million you know it was just crazy. I hit it in class, too, and I was going crazy in class.
What class?
It was either math or social studies class.
What's something we can expect of Lil Tecca this year that nobody knows yet?
Something you could expect to see… well, if nobody knows it now, then like now everybody would know if I told you. You feel me? I guess you don't know. Stay tuned.