ATTENTION, ATTENTION, ATTENTION – Woah, we didn't think that would actually work.
Now that you're here, though, we promise to make it well worth your while… we've got Karl Jacobs updates! First and foremost, our man Karl is on the cover of the Fall catalog, which you can expect to start seeing in your homes as early as today! This edition of the catalog features all the core seasonal favorites plus new brands and styles we thought you might want to try on for size! As the Journeys Creative Ambassador, you can even find Karl's fall picks inside.
Okay, now, don't be too jealous, but during the shoot, we got to spend the entire day with Karl. We talked about Journeys products, filmed and shot lots of content, and, oh yeah, created an entire custom claw machine full of Journeys shoes and also full of Karl at one point. Pics below to prove it happened: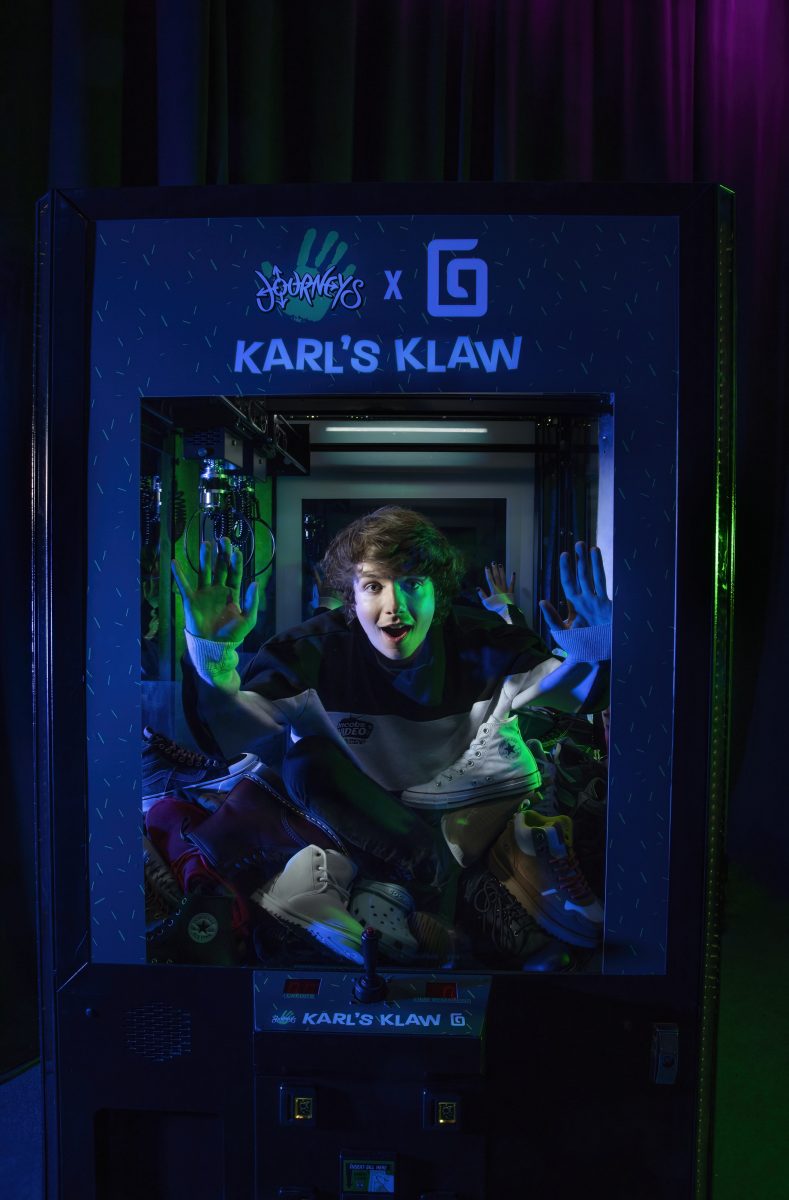 When the shoot was over, Karl sat down with us for an exclusive interview to answer the questions we've all been dying to know. So, without further ado, here's our convo with Karl, including details about his personal style, the future of his content, and so much more:
Q: How would you describe your style?
A: I'm like a super fashionable, thrifted grandpa vibe but in a good way…I think. When I'm not shopping at places like Journeys, I like to thrift and find awesome and unique pieces to pair with the rest of my wardrobe.
Q: How did you get into doing your nails?
A: I saw a music video for an artist that I really like, Glaive, and he had nail polish on. I felt like he and I had a similar aesthetic, and I was like, 'oh, wait, I could do that,' so I just went for it and gave it a try! I ended up really liking it.
Q: We know you've mentioned that you were nervous about graduating college because you didn't want to sacrifice your streaming time. So, if you weren't a content creator for a living, what do you think you'd be doing?
A: I was going to be a video editor, so I wanted to edit YouTube and music videos and other stuff like that! I still love that side of things, and I'm thankful I get the chance to do it on occasion, but streaming is really my passion. It always has been.
Q: Do you think you would still be streaming every night after work if you had a more traditional job?
A: No, it's a lot. Streaming is already so much work. I like to put a ton of energy into every stream and realistically, I don't think I would have enough left in me at the end of a traditional workday.
Q: When it comes to style, what creators do you look up to?
A: Awe, man, streamers don't know how to dress… just kidding! I'd say Hasan dresses well, and he also wears my merch a lot, so brownie points to Hasan.
Q: If you were any breakfast food, what would you be?
A: An everything bagel with cream cheese, toasted. Light on the cream cheese. Make sure you write that down. Don't go too much on that cream cheese it's very important!
Q: Okay, why?
A: Honestly, it's just my favorite breakfast food ever. I grew up in New York, and they have good bagels there. Leave it to the New Yorker to want to be a bagel.
Q: How many days do you think you would last in a Mr. Beast 10k per day challenge?
A: Hmmm… I feel like I'd make it three days. You probably thought I was going to say much more, but no. Those challenges are tough and really mentally draining.
Q: Speaking of Mr. Beast challenges, do you want to talk about your hide and seek challenge? We've seen you attribute a lot of your success online to that particular video.
A: $60,000 Extreme Hide and Seek Challenge was the first Mr. Beast video I was ever in. It was literally just because someone got sick or something, and they needed someone else to fill in, so I was there for it. It was so funny because before we went to go film that video, I went to Walmart and bought a bunch of different props so I could stand out. I figured the more I would stand out, the more opportunities I would get to recur in other videos—and it ended up working.
Q: What's something that you think people would be surprised to know about you?
A: I don't actually work out every day. I know it might look like it but *insert contagious Karl laugh here* I don't.
Q: Who are you watching and streaming in your free time on Twitch, YouTube, TikTok, etc.?
A: I used to watch so much YouTube and Twitch, and I had tons of people that I was a fan of, but now I honestly just watch all my friends. It's more like keeping up with friends and people I'm close to as opposed to watching people that I look at as content creators.
Q: When you're in a video, do you watch it?
A: No, I can't do it! I used to be an editor, and the reason I stopped editing was that I told them I didn't want to edit videos I was in… and then I just ended up being in a lot of the videos. I couldn't do it because I would just cut myself out.
Q: You're obviously very creative and talented…
Karl: Keep it coming, keep it coming…
Q: We can only imagine the amount of thought, research, and creativity that went into creating Tales from the SMP. We're curious if you have other creative outlets outside of that?
A: I thought I wanted to be a writer growing up. In college, I was trying to become a gaming journalist for a little bit there. I was trying to get into writing in general. Lately, I've been having a lot of fun because I've been working on a comic series, Time Traveler Tales, and I've gotten to have some creative ownership of that.
Q: You've also mentioned that for two years, you consistently streamed to a relatively small audience. Did you ever imagine that you'd be where you're at today?
No. No…Actually, I wanted it so bad that I think I really believed it would eventually happen to be honest. I kept putting in a lot of effort to try to make it happen and it finally did.
Q: Do you have advice for young creators who are currently streaming to a small audience and trying to grow?
A: Yeah! For streaming, I think the best way to improve is to go back and watch your old streams and then try to notice things you can improve on. At the end of the day, you're streaming for other humans to watch. I grew up watching streams, and as much as it pained me to watch myself, I would go back and watch my stream to note, 'oh, that wasn't the best I could have done,' or 'I don't like that I use a crutch word.' You can just fix something every stream, and then you end up getting better and better each time.
Q: What do your friends and family think about your success?
A: My family is really proud. I don't think my extended family even really understands what I do, so that's funny, but they are all very, very supportive of me. I don't think they could explain it past 'he does YouTube,' and that's it.
Q: Do you have any funny fan or celebrity DMs?
A: Joe Biden's grandson DM'd me and told me that people kept telling him that he looked like me.
Q: Well, does he?
A: Yeah, he does. It's really weird, especially when we are both wearing masks–it's crazy.
Q: Back in May on Banter, you mentioned you wanted to go a different direction with your YouTube channel. So, what can fans expect to see coming up in your content?
A: It's going to be much more high effort. More personality. Way more IRL content merged with video games and other stuff like that. I'm really excited about it.
Q: What is it like knowing you have such a large audience and loyal fan base and that you're genuinely making an impact on teen culture, gaming culture, and now fashion as well?
A: It's really, really cool to me. I think I got extremely lucky in cultivating a community that doesn't necessarily just like one type of content. I feel like they would enjoy whatever I put out because they know it's going to be high effort and I'm always going to try my best.
Q: How did you cultivate that?
A: I have no idea, but I'm not going to question it. I think we're just a community that understands each other and has the same sense of humor.
Q: We know that you don't work with many brands in general, and you're very particular about those that you do choose to work with, so what about this partnership with Journeys felt like the right fit for you?
A: Journeys is one of best brands I've ever worked with! The entire team is really welcoming and has been good about letting me take control and do what I'm good at. Then from there, they take it and do all the things they're good at. I think by playing to each of our strengths, we can really come together much better than most partnerships.
Q: What are you most excited about in your Creative Ambassador role with Journeys?
A: I've never done a photo shoot for a cover of anything, so I was really pumped about the shoot, the set, the cover, and of course, the claw machine.
Q: Where is Karl headed? What can we expect to see from you in the future in terms of your career?
A: I want to expand outward with the types of things I'm passionate about. At some point, I'd love to work on a cartoon series, and I'm working on the comic series now. I just want to do a lot of these things that I've got tons of passion for.
A Few Final Thoughts and Thank Yous
Thank you Karl for being the world's greatest Creative Ambassador and to his team for their help throughout the shoot. Stay tuned for more Karl content on our TikTok, Instagram, Twitter, and also right here on the Journeys blog!
---