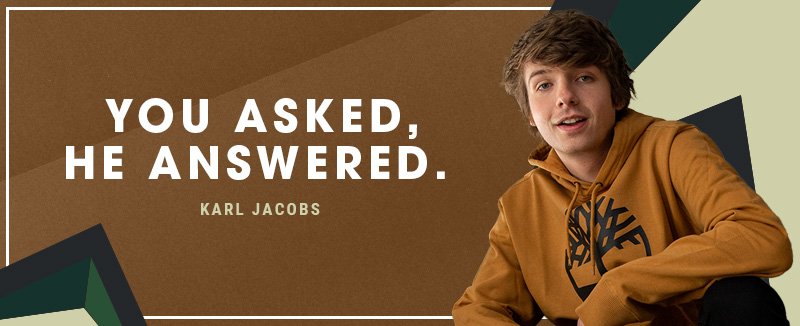 Hey everybody, we know you're ready for tons more Karl content. Don't worry, it's coming, but for now, here's a sneak peek at the latest with our Creative Ambassador, Karl Jacobs. You asked your pressing questions, and he answered in true Karl fashion. From his career goals to his bucket list, things got giggly, then a little deep, then giggly again as we took him through YOUR questions!
Check out the preview below:
Question:
Answer:
Karl: "I don't know. We just skydived, Frank, what's next?"
Frank: "We did, you can't even say skydiving anymore."
Karl: "Oh, I wanna go to outer space. That's on my bucket list, and that's crazy."
Question:
Answer:
Karl: "Bad inspiration…" *giggles* "Just kidding that's terrible." *more giggles*
"Probably cartoons. Growing up, I was very inspired by cartoons. Everything I do, I try to make it like Ed, Edd, and Eddy. I hope to inspire people to try to give out positivity into the universe."
Question:
Answer:
Karl: "Yes, I do, and I collect cartoon VHS tapes. Days of Cartoon Network just prerecorded onto VHS tapes, it's sick. But yeah, that's my favorite collection I have probably!"
Want more? We know! See the full interview with Karl here, and follow @Journeys on TikTok, Instagram, and Twitter!