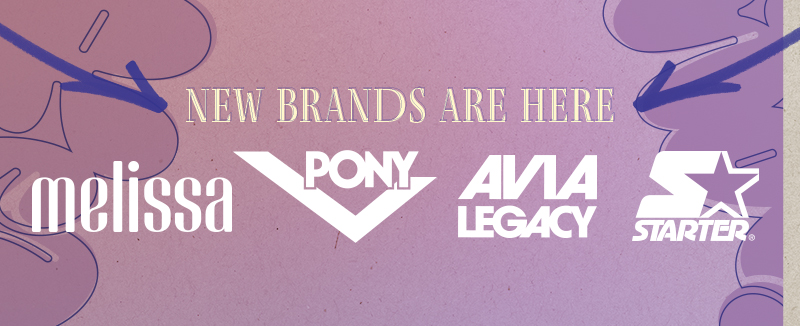 We have big news in the Journeysverse. We're welcoming some new brands to the family, and we wanted you to be the first to know. These items are for sale in select stores and online NOW, so check them out before they start selling. Pssstt… we think they'll go fast!
Starter
Starter has been a leader in retro-inspired athletic wear for decades. Known primarily for leveraging retro takes on popular sports teams' colors, logos, and designs, Starter is a well-known name among fanbases everywhere.
The Starter footwear lineup gives nods to both the athletic heritage of the brand and retro touches in terms of design, materials, and colorways—all ringing up at a price point below $85.00 before tax! See why we're excited to get things "Starter" with this new brand below!
Avia
Avia is a brand best known for high-quality athletic footwear for decades, but it's still new to the Journeys fam. Gaining popularity in the 80s and 90s for producing functional, yet fashionable athletic footwear, this brand is still popping off today with trending silhouettes and styles. See why we're loving the diverse styles below, perfect for cross-training and casual wear—c'mon versatility!
Melissa
The Melissa brand is another newbie amongst the Journeys classics, but we're welcoming it with open arms! All Melissa products are vegan, cruelty-free, and made in a facility that emphasizes sustainable practices above all else. The brand has a unique commitment to eco-friendly practices and minimizing waste: who knew environmentally friendly could look so fab? See the fun colors and styles this brand has been nailing all season long:
Pony
"Pony," short for Product of New York, is another brand known for creating sneakers for both athletic performance and stand-out style. Lace-up in design, and retro in look, Pony gives that thrifted, timeless, and sporty vibe without having to try too hard. Check 'em out to see how this brand might pair well with your wardrobe if you're following the current sneaker trends.
We're getting new brands every other week it seems, so stay on the lookout for more brands you can find at Journeys, or search the brands page on the website to find some you might not even know we already have! Not all are available in-store, so be sure to check before heading to buy or try on in your local store.